Divers
Comme chaque année, l'éditeur Tor nous propose un recueil des meilleures nouvelles de l'année.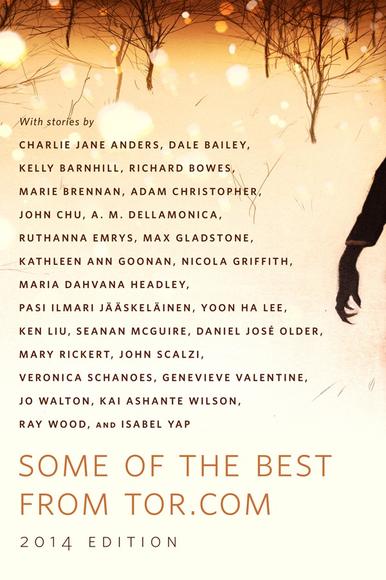 Contenu.
"As Good As New" by Charlie Jane Anders
"The End of the End of Everything" by Dale Bailey
"Mrs. Sorensen and the Sasquatch" by Kelly Barnhill
"Sleep Walking Now and Then" by Richard Bowes
"Daughter of Necessity" by Marie Brennan
"Brisk Money" by Adam Christopher
"A Cost-Benefit Analysis of the Proposed Trade-Offs for the Overhaul of the Barricade" by John Chu
"The Color of Paradox" by A.M. Dellamonica
"The Litany of Earth" by Ruthanna Emrys
"A Kiss With Teeth" by Max Gladstone
"A Short History of the Twentieth Century, or, When You Wish Upon a Star" by Kathleen Ann Goonan
"Cold Wind" by Nicola Griffith
"The Tallest Doll in New York City" by Maria Dahvana Headley
"Where the Trains Turn" by Pasi Ilmari Jääskeläinen
"Combustion Hour" by Yoon Ha Lee
"Reborn" by Ken Liu
"Midway Relics and Dying Breeds" by Seanan McGuire
"Anyway: Angie" by Daniel José Older
"The Mothers of Voorhisville" by Mary Rickert
"Unlocked: An Oral History of Haden's Syndrome" by John Scalzi
"Among the Thorns" by Veronica Schanoes
"The Insects of Love" by Genevieve Valentine
"Sleeper" by Jo Walton
"The Devil in America" by Kai Ashante Wilson
"In the Sight of Akresa" by Ray Wood
"A Cup of Salt Tears" by Isabel Yap
Ce que j'en ai pensé. Un très bel ensemble de nouvelles qui donne l'occasion de lire certains auteurs récents et plutôt originaux. Je conseille particulièrement celle de John Scalzi. A l'inverse, certaines m'ont laissé particulièrement perplexe quant à leur présence chez un éditeur de SF.
J'ai également de très bons souvenirs de « Where the Trains Turn » et « The mothers of Voorhisville » même si l'histoire traine un peu en longueur.